MIGUEL
José "Miguel" Rios is an American yacht designer in Kaohsiung who was stricken with a bad case of Japanese Encephalitis back in 2012, He fell into a coma after being bitten by a mosquito and contracted Japanese Encephalitis.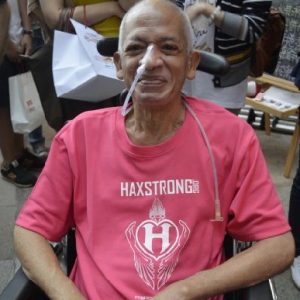 Around the time that this terrible thing that happened to Miguel, Gregg was in the hospital looking after another expat, Jason, who had suffered a serious accident and there was news circulating around the hospital that there was another foreigner that had been brought in and he was in the ICU. That guy turned out to be Miguel.
As, our mission and motto is "you are never ever alone" we went around looking for him and we found him. He eventually came out of his coma and was transferred out of the ICU. That was when Gregg met him.
Gregg recounts, "I remember that day, it was heartbreaking. He looked healthy in his bed, but he had this look on his face. He looked like he had just seen a ghost and he had no idea what was going on."
Being one of the first cases for Haxstrong, Gregg was nervous and was not too sure about what to do. Miguel was a stranger to Gregg and Gregg was not only a stranger to him, but he had also just woken up in a hospital from a coma.
"Going in and seeing someone lost and confused, made me think about what I had gone through, and what I had done to all the amazing people that helped me through my accident. They saw me in a horrific state and seeing Miguel, a fellow human, like this, WOW, the people that helped me are GODs and it is one of the worst thing to put someone through!"
The instinct was to be there for him, to show him that in this time he wasn't alone! We had the pleasure of meeting his angel, his girlfriend, Amanda. She had been by Miguel's side day and night and we assured her that going forward we were there for her and that we would provide as much help as we could.
Haxstrong needed a plan and a direction. So awareness was created via social media to let people know Miguel needed help. This built up support and with this support we could go to visit him and show him he is never ever alone. "Bringing support and showing that you care, brings ambition and hope." said Gregg.
Miguel was eventually transferred out the hospital and into a nursing home. He had to be around nurses, as he could not be on his own. Every day, Amanda visited him and Haxstrong created a group to be there for him! The support was great for Miguel and you could really see his ambition to get better every day.
However, our hardest battle was getting the funds for Miguel and help Amanda out with the endless bills. Nursing home bills, medical bills and hospital bills all needed to be paid and his girlfriend was giving the majority of her pay check to pay for them! Miguel had no health insurance and the cost of everything was extremely high.
Haxstrong held several fundraisers to get him important funds to cover costs, but that was never enough. Haxstrong needed to find a new way, not only to help Miguel, but also to help his girlfriend, who had given her life to looking after him.
Over the next few years, Miguel went through many different stages of wellness and at some stage, it seemed like he was making major strides in his recovery and he was starting to talk and communicate with us, but then unfortunately, in 2015 he suffered a lung and throat infection which brought his health crashing down.
In 2016, we raised money for an MRI to get to the bottom of why he wasn't progressing and we were devastated to hear that Miguel still had the Japanese Encephalitis in his body and it was nested in his brain. The doctors told us that the disease is shrinking his brain and he will slowly start forgetting things and not recognizing people. "It was heart breaking for me during the time we took him to the MRI. He did not recognize me and was calling me the devil. He was so scared that we were all trying to kill him!" Gregg said.
The disease is still there and there is very little we can do to help him medically. But mentally, we believe he is still there and we can still go and support him and show him that we are never going away. After a long period of paper work and trouble, Miguel and Amanda were able to get married and Miguel will get his health card through his marriage to Amanda.
Haxstrong wishes to thank everyone for their kindness over the years, it has made a huge difference in his life and in Amanda's. We still believe as a community we can help him by being there for them and helping Amanda where we can!
"All the amazing things that happened is because of Haxstrong, because of Gregg, and because of all the friends" Amanda said.
Join his page and send your love to Amanda and Miguel!
https://www.facebook.com/SupportForJoseMiguelRios