WHAT IS HAXSTRONG?
We are a group of expats who offer support and assistance to other expats here in Taiwan; often during their darkest hours.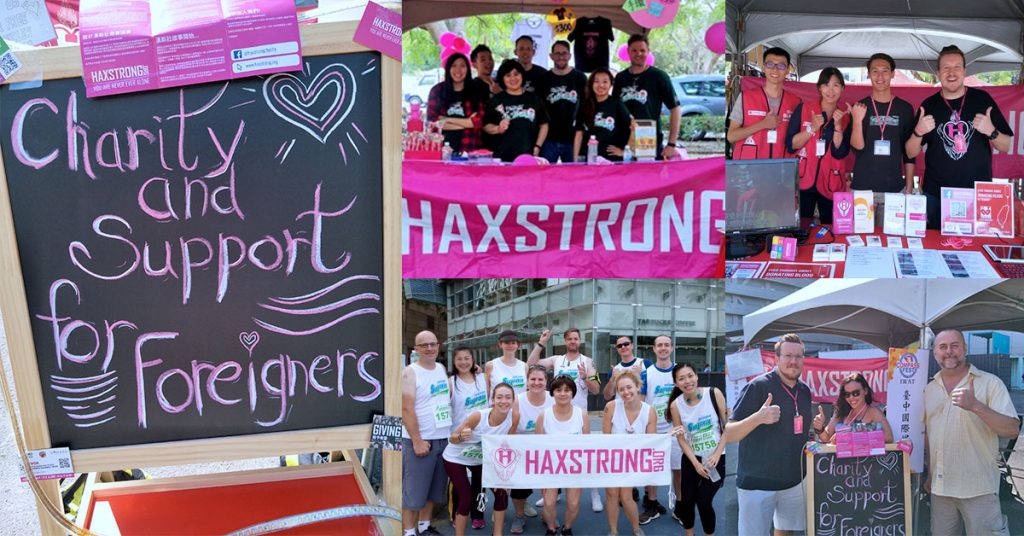 That's basically how how Haxstrong came to be; through our founder Gregg's life changing accident, and a team of friends who made his recovery in Taiwan possible. After a horrific motorbike accident in Kaohsiung, Gregg was given hours to live, before he fell into a coma that lasted two months. When he woke up, he had lost all sense of who he was. The people surrounding him helped him through this devastating period of his life, in ways he didn't even realize he'd needed help. The love and support that he not only felt, but came to rely on during that time, drove him to create Haxstrong; a charity that would aim to provide that same support to every expat here in Taiwan.
>>READ MORE ABOUT GREGG'S STORY
Whatever you're going through, and however desperate you may feel, you are never alone, and we can help. If you, or someone you know, isn't doing well and you'd like help, drop us a line. Maybe you don't know what help you need, but that's ok, we might.
WHAT SORT OF HELP DOES HAXSTRONG OFFER?
You may have seen some fundraising campaigns over the last few years seeking donations for a variety of individuals who've suffered an accident, illness, or fallen on hard times. That's the public face of Haxstrong that most people know.
However, for every case like those that you see in the public eye, there are ten or more that you'll never hear about. Those are the cases that don't require financial assistance; they need support with something else. We've helped to mediate and resolve a wide range of issues, including complex legal and medical matters, problems with visas and immigration, and even simply cutting through the language barrier that exists for so many of us here. It is our legal work, however, that is often the most valuable to expats here. For example, we recently helped out in a case of divorce, where the expat spouse didn't know the law, what rights they had, or how to navigate the system. Other legal issues arise like disputes with landlords or employers, and cases where people have been in an accident and are getting pressure, or threats, from the other person involved.
We also offer emotional support and assistance to people struggling with the rollercoaster of culture shock, anxiety, depression or even suicidal thoughts. Be it simply a friendly ear to listen, to helping you access professional support here in Taiwan.
Most of us don't expect to find ourselves in these kinds of situations, but they happen, and it's only when they do that we find ourselves looking for someone who can answer our questions, or offer impartial advice. Dealing with this stress in a foreign country, and without the familiarity and comfort of our home countries, often leaves us feeling helpless, overwhelmed, and lonely. But sometimes just sharing the problem with another impartial expat, who understands the trials and tribulations of living in Taiwan, can really help.
WHERE IS HAXSTRONG BASED?
We started out in Kaohsiung, but now we have teams and representatives in Taichung and Taipei, as well as a number of people we can call on in other cities. We have also just opened an office in Kaohsiung that we are planning to use as a drop in center once we are fully set up and ready to go. In time, our goal is to do the same in Taichung, Taipei and other locations.
I'D LIKE TO GET INVOLVED. WHAT CAN I DO TO HELP?
We are always looking for caring people who want to volunteer to help others in a crisis. You don't need any special training, nor do you need to dedicate a set number of hours a week. The core of what we do is 'Response & Support;' being there for someone in need. That means being prepared to listen, and being that voice and face of comfort that helps people to get out from a dark place. If you think this is something you'd like to be involved in, then please contact us. We'll send you some more detailed information on what to expect when joining our team.
HOW DO I GET IN TOUCH WITH HAXSTRONG?
Whether you, or someone you know, needs help or you'd like to inquire about joining our Response & Support Team, you can drop us a line via Facebook, or through the contact page on our website. Someone will get back to you ASAP and set up a time to chat with you.
HAXSTRONG WEBSITE CONTACT PAGE
https://haxstrong.org/contact-us
HAXSTRONG FACEBOOK PAGE
https://www.facebook.com/haxstrongcharity